BEHIND THE BRAND
Welcome to Elia Luxury. An online shopping experience unlike any other. Where refined quality products meet elegance, creativity, and innovation. You work hard for your money. You deserve high quality fashion rich in culture. Our timeless collection is one-of-a-kind with a dash of modern chic uniqueness.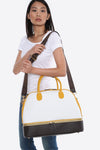 WHO WE ARE?
The meaning behind Elia is "God has answered". It is a name that incorporates faith and high values.All qualities that every human being should strive to have. It is of Hebrew origin and is also a very popular child's name. When one names their child Elia, they are hoping that their father and son connection will hold a strong bond.

They want that child to be loved and treasured. Luxury is a term that means to be unique and treasured.When you own a luxury product, it is a purchase that contains high-end qualities. Walk into any popular fashion show and your eyes will fill to the brim with luxury fashion. It does not only refer to being expensive. It exudes elegance. It involves a wider concept that is often a symbol for creativity. To business and brand placements, wearing luxury items is a huge statement. It attracts high consumers ranging in exclusiveness and uniqueness. When a piece of clothing makes you feel luxurious, you know that it was made with intricate craftsmanship.

Manufacturing high custom accessories takes talent. We make sure that all our products are carefully handmade and tailored. When a product has a personal touch, you can feel the level of care that was put into it. You can tell that it wasn't just thrown together. It took time, research, and experimentation. It took extraordinary innovation. It drew from a place of love.